Family Ski Holidays in Meribel 2023/2024
Meribel is a fantastic resort for your family ski holiday. Meribel promises the very best for your family ski holiday. This guarantees that families will have an even more enjoyable ski holiday. They commit to the following:
A personal welcome for families
Activities for all ages
Appropriate pricing structures for toddlers and grown ups
Activities for kids and adults that can be done together or separately
Medical help nearby for minor cuts and scrapes
Pampering for every child from childcare professionals.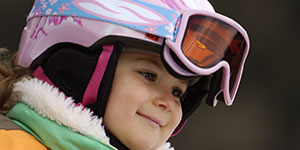 There is plenty for your children to get involved in during their stay in Meribel. Families can choose from bowling, swimming, soft play, inner tubing, sledging, indoor climbing and even husky sledge rides! If you book a nanny service such as Merinannies then they will take your children up on the Rhodos bubble to the beginners ski area where they can play hide and seek, walk through the beautiful forest, treasure hunt or simply collect the most unusual/pretty pine cones they can find. They will usually search for animal foot prints in the snow as well which is fun. For children under the age of 5 then they will be able to get a free lift pass or use the free shuttle service for getting about the resort. Meribel centre itself has a good variety of lovely cafes and restaurants to have a spot of lunch or a tasty hot chocolate with your little ones.
In our catered chalets cots and high chairs can be provided early teas can usually be organised for children. Take over a chalet just for your group and enjoy yourselves, or head to one of the chalethotel's that are close to the slopes with childcare either in-house or close by.
Check out our childcare in Meribel page for full childcare details. Have a look at our Family Ski Deals page for the up to date ski deals.
Family Ski Chalets
Some chalets are more suitable for families and children than others. We can adivse on the best properties for your group or family (depending on children's ages etc.).
We can also assist with pre-booking lessons and childcare if you stay in any of the properties featured on our site. Arrangements for other childcare, creche and nanny services can also be organsied.
Families on the Slopes
Meribel is an amazing resort to ski as a family as there are plenty of greens, blues and red runs. The Altiport area is a lovely way to introduce your children to skiing by taking the Moon Wild route through the forest. There are also themed areas and snowparks with Kenotte the Meribel hare leading the way.
The Inuit village is also in the Altiport area and has banked turns, mini slalom and themed games. The Moon Park has 10 hectares of obstacles to practice freestyle, jumps and acrobatics. Le P'tit Moon is a designated area especially for young skiers aged 6-12yrs. This is a fun course of banked turns. There are also Zen Zones throughout Meribel and Mottaret where the area is closed off and safe for beginners to practice.
If your family has been active all morning and the children are in need of a break then there are picnic areas at the start of the Saulire Express and below the Pas du Lac gondola in Mottaret.
During the school holidays the ESF runs a torch lit decent that children can be involved in.
For children's ski lessons have a look at our ski and snowboard lessons page
Check out our Family Ski Deals page for special offers.
Families Off the Slopes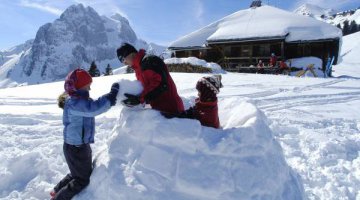 The fun doesn't stop when they take their ski boots off.
There are plenty of activities for your children to get involved in such as Igloo building and cheese fondue nights for 7-12 year olds during the school holidays.
There are also 'world of snow' night outings with tales of the mountains during the French school holidays.
Entertainment is put on throughout the week such as children's shows and magic shows.
For something a little different then head to a toboggan run. These are made up of 3 runs with crash pads and a nearby picnic area for the parents to relax while the children have fun. The runs are at the Chaudanne, Meribel Village and Mottaret.
Finally, if you have the energy there is bowling for children 3 years and over. Children under 5 will get free entry into the ice rink and swimming pool. There is even a cinema.
If you want an evening out and a babysitter for your child or children then this link gives the Meribel tourist office babysitter list
Meribel Family Ski Pass
The Meribel family pass offers fantastic value. If you are a family of at least 2 adults and 2 children then everyone pays the child price!
The Meribel and 3 Valleys family ski passes are valid for families with 2 adults and 2 children aged 5-18 years.
Ski pass prices for 2020/2021 are coming soon.
Standard Season Rates 2022 / 2023
6 day 3 Valley Area Prices
Adult: 360 Euros per person (or 340 Euros per person when buying for 3 or more people - the Tribu price)
Child: (5-12 yrs inclusive) 288 Euros per person
Senior: (65-75 yrs inclusive) 324 Euros per person
Family Pass - 2 adults and 2 children (5-18yrs) 1 152 Euros
Family Pass - 2 adults and 3 children (5-18yrs) 1 440 Euros
Family Pass - 2 adults and 4 children (5-18yrs) 1 728 Euros
---
Standard Season Rates 2022 / 2023
6 day Meribel Area Prices
Adult: (13+ yrs) 305 Euros per person
Child: (5-12 yrs inclusive) 244 Euros per person
Senior: (65-75 yrs inclusive) 274.50 Euros per person
Family Pass - From 2 adults and 2 children (5-18yrs) 976 Euros
Family Pass - 2 adults and 3 children (5-18yrs) 1 220 Euros
Family Pass - 2 adults and 4 children (5-18yrs) 1 464 Euros
Full details can be found on www.ski-area.meribel.net or Meribel lift pass page
Family Ski Chalets
Your search returned 4 results